#Arkhaven INFOGALACTIC #Castalia House
DAY TRIPS
CULTURE WAR RESOURCES
BOOK OF THE MONTH
AUTHORS
NON-FICTION DOWNLOADS
THE IRRATIONAL ATHEIST
Against the New Atheism
History of Economic Thought
Human Action
America's Great Depression
History of Money and Banking
Intro to Austrian Economics

DOGGEREL
An Infernal Economy, Canto I
An Infernal Economy, Canto II
The Yellow Bus
Bane Walks On
A Dog Named Flea
Once Our Land
Ode to the Small Creature Who Takes Refuge in My Boot
BOOK LIST 2021
Silver on the Tree, Susan Cooper
The Day of the Barbarians, Alessandro Barbero
The Battle: A New History of Waterloo, Alessandro Barbero
Dante, Alessandro Barbero
The Eyes of Venice, Alessandro Barbero
The Thursday Murder Club, Richard Osman
Marshall McLuhan: You Know Nothing of My Work, Douglas Coupland
Into the Darkness, Harry Turtledove
Darkness Descending, Harry Turtledove
Through the Darkness, Harry Turtledove
Rulers of Darkness, Harry Turtledove
Out of the Darkness, Harry Turtledove
Discourses on Livy, Niccolo Machiavelli
Shrinkage, Chuck Dixon
Snakehand, Chuck Dixon
La Gringa, Chuck Dixon
Relentless, Tim Grover
Pirates of the Levant, Arturo Perez Reverte
Stalin's War, Sean McMeekin
La Vérité sur l'Affaire Harry Quebert, Joel Dicker
Guards! Guards!, Terry Pratchett
Interesting Times, Terry Pratchett
Maskerade, Terry Pratchett
Carpe Jugulum, Terry Pratchett
Thief of Time, Terry Pratchett
A Hat Full of Sky, Terry Pratchett
Witches Abroad, Terry Pratchett
Snuff, Terry Pratchett
The Last Hero, Terry Pratchett
The Nightmare Stacks, Charles Stross
The Delirium Brief, Charles Stross
The Labyrinth Index, Charles Stross
Dead Lies Dreaming, Charles Stross
The Compleat McAndrew, Charles Sheffield
The Long Game, Rush Doshi
The Ganymede Club, Charles Sheffield
Dark as Day, Charles Sheffield
Reading List 2020
Reading List 2019
Reading List 2016
Reading List 2015
Reading List 2014
Reading List 2013
Reading List 2012
Reading List 2011
Reading List 2010
POLITICAL THEORY
ATHEIST DEMOTIVATORS
Atheism (R. Dawkins)
Atheist Logic (D. Dennett)
Atheist Reason (C. Hitchens)
No True Atheist (S. Harris)
The Courtier's Reply
Atheism Camp
Consensus
About Atheism
About Evolution
Archives
Archives Select Month August 2021 July 2021 June 2021 May 2021 April 2021 March 2021 February 2021 January 2021 December 2020 November 2020 October 2020 September 2020 August 2020 July 2020 June 2020 May 2020 April 2020 March 2020 February 2020 January 2020 December 2019 November 2019 October 2019 September 2019 August 2019 July 2019 June 2019 May 2019 April 2019 March 2019 February 2019 January 2019 December 2018 November 2018 October 2018 September 2018 August 2018 July 2018 June 2018 May 2018 April 2018 March 2018 February 2018 January 2018 December 2017 November 2017 October 2017 September 2017 August 2017 July 2017 June 2017 May 2017 April 2017 March 2017 February 2017 January 2017 December 2016 November 2016 October 2016 September 2016 August 2016 July 2016 June 2016 May 2016 April 2016 March 2016 February 2016 January 2016 December 2015 November 2015 October 2015 September 2015 August 2015 July 2015 June 2015 May 2015 April 2015 March 2015 February 2015 January 2015 December 2014 November 2014 October 2014 September 2014 August 2014 July 2014 June 2014 May 2014 April 2014 March 2014 February 2014 January 2014 December 2013 November 2013 October 2013 September 2013 August 2013 July 2013 June 2013 May 2013 April 2013 March 2013 February 2013 January 2013 December 2012 November 2012 October 2012 September 2012 August 2012 July 2012 June 2012 May 2012 April 2012 March 2012 February 2012 January 2012 December 2011 November 2011 October 2011 September 2011 August 2011 July 2011 June 2011 May 2011 April 2011 March 2011 February 2011 January 2011 December 2010 November 2010 October 2010 September 2010 August 2010 July 2010 June 2010 May 2010 April 2010 March 2010 February 2010 January 2010 December 2009 November 2009 October 2009 September 2009 August 2009 July 2009 June 2009 May 2009 April 2009 March 2009 February 2009 January 2009 December 2008 November 2008 October 2008 September 2008 August 2008 July 2008 June 2008 May 2008 April 2008 March 2008 February 2008 January 2008 December 2007 November 2007 October 2007 September 2007 August 2007 July 2007 June 2007 May 2007 April 2007 March 2007 February 2007 January 2007 December 2006 November 2006 October 2006 September 2006 August 2006 July 2006 June 2006 May 2006 April 2006 March 2006 February 2006 January 2006 December 2005 November 2005 October 2005 September 2005 August 2005 July 2005 June 2005 May 2005 April 2005 March 2005 February 2005 January 2005 December 2004 November 2004 October 2004 September 2004 August 2004 July 2004 June 2004 May 2004 April 2004 March 2004 February 2004 January 2004 December 2003 November 2003 October 2003 Search for:
CONTACT
VOXOLOGY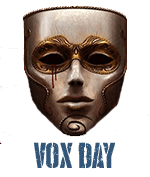 Voxiversity
CRYPTOFASHION
CASTALIA BOOKLISTS
Vol 1.1: Ian Fletcher
Vol 1.2: Karl Denninger
Vol 1.3: Nick Novello
Vol 1.4: John Julius Norwich
Vol 1.5: John O'Neill
Vol 1.6: Rep. Thad McCotter
Vol 1.7: John Hawkins
Vol 1.8: Steve Keen
Vol 1.9: James Delingpole
Interviews
Interviews of Me
SITES OF INTEREST
Voxonomica
ALL BLOG POSTS AND COMMENTS COPYRIGHT (C) 2003-2021 VOX DAY. ALL RIGHTS RESERVED. REPRODUCTION WITHOUT WRITTEN PERMISSION IS EXPRESSLY PROHIBITED.
Recent Posts
Tags
#AltRight#GamerGateAlt-HeroatheismbanksbooksCastalia HouseChristianityClash of CivilizationscomicsconspiracycorpocracycuckservativeDarkstreamdecline and falldeclineandfalleconomicseducationEUfreakshowgameshistoryHugo AwardimmigrationlawmailvoxMcRapeymediamoviesphilosophypoliticsPuppiesscienceSFWASJWsocietysportstechnologytrainwreckVibrancy is our strengthVibrancyisourstrengthwarWNDwomenwriting
In which a meme becomes reality:
People should receive a different Covid vaccine for their third jab because it will boost their immunity, one Government adviser claimed today.

Professor Danny Altmann, an immunologist at Imperial College London and a member of SAGE's immunology taskforce, said a mix-and-match approach for booster jabs is 'always going to be a good idea'.

A different third jab will stimulate the immune system in a slightly different way and maximises the chance of a strong immune response, he said.

Scientists at Oxford University found in June that mixing and matching Covid jabs can give more protection and said their research could have a 'major impact' on the booster campaign being considered in the UK.
Trusssst the sssscience! Mix and match and max the vaxx! The more, the merrier the mutation.
UPDATE: Also, three shots is not enough.
Fourteen Israelis have been diagnosed with COVID-19 despite having been inoculated with a third COVID-19 vaccine dose, according to Health Ministry data reported by Channel 12 news on Sunday. According to the network, two of those infected after receiving the booster shot have been hospitalized.
Posted on by VDTagged science, vaccines
---
Status: 65.4 percent of goal.
The Iliad: 216/500
The Odyssey: 206/500 Posted on by VDTagged books, Castalia House
---
Fred Reed is dumb enough to accept the false Ashkenazi claims of 115 IQ at face value:
Among IQists, it is doctrine that blacks have a mean IQ of 85, fifteen points below the Hagvaca average of 100, and this is held to account for the lack of success of blacks. Searching the literature reveals authorities asserting that Ashkenazi Jews have a mean IQ of 115, as far above ordinary or Hagvaca whites as whites are above blacks. Eureka, and all. Equal differences of input produce equal differences of outcome. N'est-ce pas?.
No, it's is most definitely not so. Two points are sufficient to conclusively demolish this ridiculous and scientifically unfounded claim that everyone from Jordan Peterson to Fred Reed has mindlessly repeated without ever once thinking through its obvious implications.
First, if Ashkenazis have an average IQ of 115, then all other Israeli Jews, who are the majority of the Jewish population there, have an average IQ of 83.7. This is lower than the average IQs of Jordan, Syria, Saudi Arabia, and Pakistan, as well as Nigeria, Uganda, and the Israeli-Arab population. To claim that "Jews are successful because they are super smart" is tantamount to saying that Israelis are retarded. This is not a difficult concept. Even a relative moron with a mere 115 IQ should be able to follow both the math and the logic involved.
Second, the source of the fictitious "115 mean IQ" claim is the 1957 study by Boris Levinson entitled "The Intelligence of Applicants for Admission to Jewish Day Schools" published in Jewish Social Studies,Vol. 19, No. 3/4 (Jul. – Oct., 1957), pp. 129-140. In the study, which reported a 114.88 mean IQ for the 2,083 very young students sampled, the author noted its intrinsic limitations.
"This study is limited to applicants for Day Schools adhering to the principles of the National Commission for Yeshiva Education. This sampling does not claim to represent the entire Jewish school population or even those children attending yeshiva Day Schools with a different educational emphasis."
However, the author failed to mention that he did not take into account the test results of the other 3,399 students at the 16 schools, thereby raising the obvious possibility that there was an amount of cherry-picking involved. And it may be worth noting that a similar study found a 118 mean IQ for the white Christian students sampled. But is anyone dumb enough to run around insisting that whites are successful due to their 118 mean IQ?Posted on by VDTagged science
---
ALT★HERO:Q Episode 16: Games Within Games
CHUCK DIXON PRESENTS: MYSTERY Episode 7: Filthy, Lying Rats
Posted on by VDTagged Arktoons, comics
---
One of the contributors to Mike Lindell's symposium describes behavior that some of the recent arbitrants would recognize:
Joe Oltmann, the Tech executive who described hearing Dominion executive Eric Coomer say he had made sure Trump would never win in November, and who said publicly Coomer had extensive ties to Antifa, was at Lindell's Tech symposium, and briefly told his story. He began by saying people should have no doubt, there is a massive hidden organization in this country that has taken everything over, and it works, in his words, "exactly like the Mafia." He said when Coomer sued him, the Colorado Court system mysteriously dropped the case in Denver, the bluest district in the state, despite the fact nobody involved lives in Denver, and Denver has nothing to do with the case.

He said the original Judge noted the anti-SLAPP laws of the state would not allow Coomer's lawyers to depose Altmann or conduct discovery before the initial hearing on the case, so they could not go fishing for details and force Oltmann to have to hire an expensive attorney before he had a chance to get the lawsuit dismissed. That judge quickly got replaced with a new Judge who had marched at Antifa rallies and contributed profusely to Democrats, and that judge, out of the blue in contravening the prior judge and the current case law, before the trial even started, sent notice to counsels out of the blue that she was open to ignoring the anti-SLAPP caselaw and allowing Coomer's attorneys to go fishing with a deposition of Oltmann before the initial hearing. Oltmann's attorney, in talking with the judge on a phone conference, argued Oltman should not have to reveal the name of the Antifa member who let him sit in on the phone call with Coomer, because that Antifa member would be killed, to which the judge replied, "I guess we are going to see."

Everything you have believed about this country – about freedom, about the rule of law, about the Constitution and what it guaranteed you, about what opportunities you had to succeed and what fields you were allowed to operate freely in, even the privacy you were guaranteed in your own home – everything was a lie. They told you this lie, because if they did not, they would face the most heavily armed, and violence-capable population on earth in violent conflict, and you might just take those freedoms and rights by force. And now the lie is collapsing.
An arbitrator used exactly that excuse to deny one arbitrant the right to know who, personally, was responsible for deplatforming him, falsely claiming that to identify the employee responsible would put his life at risk. The level of corruption of some judges and arbitrators, and the extent to which a few of the latter directly ignore the laws that specifically address and control their powers even when explicitely reminded of them, would astonish you.
They will literally declare that black is white, that three months are seven days, and that "no power" means "implicit power to do whatever I want". Spend five minutes reading some of these corrupt morons' decisions will suffice to turn the average literate individual with an IQ over 100 into an advocate of violent revolution.Posted on by VDTagged law, politics
---
Apparently the US military reconsidered the disadvantages of dishonorably discharging all the Christians from the armed forces:
The Pentagon on Tuesday released guidelines for how service members could request a religious exemption in lieu of getting the coronavirus vaccine.

By mid-September, all active-duty forces in the military will be required to get shots in their arms to counter the coronavirus as cases continue to once again increase nationwide.

"There is a religious exemption possibility for any mandatory vaccine, and there's a process that we go through to counsel the individual both from a medical and from a command perspective about using a religious exemption," Pentagon press secretary John Kirby said Tuesday.

Kirby said military service members who wish to seek an exemption will be required to be counseled by a medical professional and a commander over the risks posed by not receiving the vaccine.
The vaccine dictate is still evil, but at least there is a way out for those who serve. It will be interesting to see how many servicemen suddenly find God in the next month.Posted on by VDTagged law, vaccines
---
MIDNIGHT'S WAR Episode 16: First Night on the Job
THE HAMMER OF FREEDOM Episode 17: Wall of Bronze
SOMETHING BIG Episode 6: Only the Coyotes
Posted on by VD
---
Status: 59.0 percent of goal.
The Iliad: 192/500
The Odyssey: 186/500
A number of would-be supporters have asked us to add some less expensive options, so we are pleased to announce the first of them today. Because Castalia Library has its hands full focusing on the English literary market, we have created a sister company, Éditions Alpines, in partnership with the owners of an existing European publishing house, to provide high-quality leatherbound books to the French, Italian, and German markets.
The first-ever book published by Éditions Alpines will be the original German text of both Heidis Lehr- und Wanderjahre and Heidi kann brauchen, was es gelernt hat by Johanna Spyri. The price is $150 and the book will be produced by the new bindery. The quality will be identical to that of the Castalia Library.
We will announce a $50 support option next week.Posted on by VD
---
And they don't fairly compensate the creators either:
Controversy sparked this week after a report claimed that comic book writers and artists who helped create characters and stories used in Hollywood blockbuster superhero movies have received very little, if any, money. In an article published on Monday, which cited several comic book industry sources, the Guardian reported that "when a writer or artist's work features prominently in a Marvel film, the company's practice is to send the creator an invitation to the premiere and a cheque for $5,000" – despite some of the movies making over $2 billion.

Others, however, reportedly received nothing when their work was adapted to the big screen, while a small number of creators received "special character contracts," which gave them some remuneration. Even then, at least one creator who had signed a special character contract with Marvel told the Guardian that the company had later refused to honor it, instead sending a token payment of $5,000.
Greed, combined with a complete lack of appreciation for talent, will be their downfall. This report indicates that creators are already making more annual money on Arktoons than they are from having their work featured prominently in a Marvel film.Posted on by VD
---
SAVAGE MEMES Episode 2: Boomer
ALT★HERO Episode 16: Do What You Gotta Do
In which new UATV star Made by Jimbob demonstrates a more sophisticated grasp of the Chinese military philosophy of Unrestricted Warfare than the entire US military defense establishment has in the last 40 years.Posted on by VD